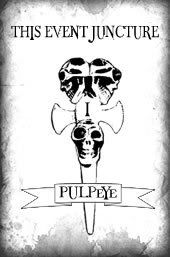 PULPeYe Publications™ slithered quietly into the physical world on July 9, 2008.
Our mission: to impact your reading experience with 'entertainment only', 'adult' subject matter, intended for readers unashamed of indulging cloaked, inward fancies; to evoke some emotional unease in those of you not afraid to allow your eyes to fall upon the risqué, the unholy, the unbelievable, the absurd; to pique and prod sundry, infernal curiosities and fascinations, and allow them release into worlds of much freer reading pleasure; to introduce new and creative authors whose maligned and twisted writing styles reflect the heretofore shuned, inhibited, denied, yet innate proclivities of humankind's dark side.
Below is a sampling of what to expect in Book #1, This Event Juncture...
This Event Juncture
An old man driven mad by a lifetime of disease, pain and heartbreak vents his pent up rage and vows revenge against a hidden, apathetic entity most popularly known as God.
An Odd Attraction
Awkward Computer Geek encounters lithe and svelte Femme Fatal. It's 'hard' to tell who's playing whom. Explicit!
Boys Do Roam
An adolescent boy's personal story of self discovery, sexual awareness, and a lot of what comes next. Explicit!
Gray Matters
A nearly fatal, freak accident renders Noel Hudak with acute clairvoyant and telepathic abilities. While 'pathing' with his beloved Deerhound, Effie, he is horrorfied to receive what appears to be a confession of murder. But, the 'why' may be even more astounding than the 'whom'.
My Immortal
Erotic encounters sometimes have unforeseeable consequences. 'nuf said. Explicit!
Chamber of Infection
Bondage and control, trust and betrayal, consent or acquiescence. Whose pleasure is it anyway? Explicit!
The X Factor
A blogger reveals the tell-tale signs of uncovering the act of covert, public masturbation. You've been busted--wide open. Explicit!
Withdrawal Pit
Alone, frightened, bound, broken. The mind creates a strange and surreal world when the body is being eaten alive by bugs! Can it get any worse? Explicit!
This Event Juncture features sixteen stories and poems of Erotica, Macabre and other genres by R.S.DeVille and Laura Duncan.
Book #1. First Printing. 103 pages Perfect binding anthology of short stories and poems for mature readers.
Click button below to visit PULPeYe Publications' Lulu store front.