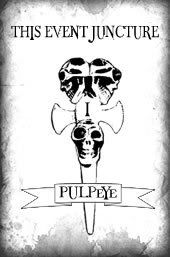 Greetings Pulp Noir enthusiasts,
To set some concerns aside, neither PULPeYe Publications nor any of the authors associated with us have any idea 'who' purchases a book from us via lulu.com. Your privacy remains intact. This is a Lulu.com policy.
Rest assured, your purchase is only seen by us as a increment of a digit, that is all.
Thank you for your support,
PULPeYe Publications™
This Event Juncture features sixteen stories and poems of Erotica, Macabre and other genres by R.S.DeVille and Laura Duncan.
Book #1. First Printing. 103 pages Perfect binding anthology of short stories and poems for mature readers.
Click button below to visit PULPeYe Publications' Lulu store front.