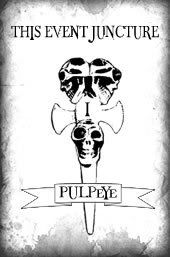 Pure Methodical Anarchy...FORWARD & INTRODUCTION
While the above statement may seem to be contradictory, it perfectly describes the wonders in this book. If I were to sum up "This Event Juncture" in one word, it would have to be "vexatious", that is: "Troubling to the nerves or peace of mind". It fits this book in so many ways.
Through these stories and poems, you will visit emotions ranging from all ends of the spectrum and even far beyond-emotions that you may not have even known were present in yourself. In the flagship story "This Event Juncture" alone you experience joy, pain, grief, amazement, life and death just to name a few, in perfect sync and proportion to one another. Each short story and poem is truly tantalizing to all the senses at once.
Author Laura Duncan has a certain air of caliginous fervency about her. So much passion for the darker side of the emotional spectrum comes through in each of her works. To some, they will hit close to home and to others, they will simply pluck at that one nerve… the raw shock reverberating through your mind and body. While generally on the more obscure side, she lays them out with as much beauty and grace as Monet with his paintbrush and muse. She has taken the art of writing and made it her own, truly captivating whomever reads from the first word to the last.
Author R.S. DeVille is a true wonder. His works span from hilarious to the most thought-inspiring words you will ever read. He will take you from amusing to arousing all in the same breath. His hilarity is matched only by his own depth and intelligence. When he does character works, you can almost see him standing in his study, making the movements and saying the words in the accent of his choosing and writing it out bit by bit. This thought alone draws a deep laugh from the recesses of my abdomen. I have yet to see an author that can match his wit and intelligence while still holding on to the serious or jocular side of things. You will notice that somehow, even in the face of his more sober sided writings, he always leaves a bit of wit in there. His stories and poems will hold your attention from the very first word to the last and some will leave you with one word on your mind… "WOW"! Mr. DeVille dares to write what he likes knowing that some will be seen as "taboo or risqué". He stretches the limits of emotion and imagination. He is a modern-day Shakespeare in his own right!!
If you are not provoked by the writings in this book in one way or another, you read it wrong. Dare to go back and read it again. No words are wasted. There is something for everyone in here. It is not a book for the faint of heart or the prudish type. Read it with an open mind and revel in the stimulation to all of your senses at once. You will NOT find another collection of works that cover this intricate webbing of thought and emotion as fully and beautifully as "This Event Juncture".
Jen Centers
"Q"
This Event Juncture features sixteen stories and poems of Erotica, Macabre and other genres by R.S.DeVille and Laura Duncan.
Book #1. First Printing. 103 pages Perfect binding anthology of short stories and poems for mature readers.
Click button below to visit PULPeYe Publications' Lulu store front.