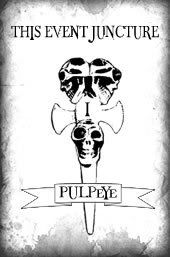 Welcome to the official web site of PULPeYe Publications™ - Bringing more of the absurd, shunned and taboo subject matter to short story format -- PULPeYe released its first book, titled: This Event Juncture, in the Autumn Season of 2008.
Wrought in the 'Pulp' style but with an eye for stimulating and distinctive writing styles of various authors, PULPeYe eagerly anticipates its first book, which will feature the writings of two bold, new authors that will challenge and assault the sensibilities of the status quo, herd mentality.
PULPeYe Publications aim to impact your reading experience with 'entertainment only' subject matter, intended for readers unashamed of indulging cloaked, inward fancies. Nearly all genres are represented in the diverse, twisted writing styles of each of the featured authors. Our intention is that each piece--whether poetry, prose, fetish, blog or erotica--will evoke some emotional unease. Our target audience: the 'mature reader'--those not afraid to allow their eyes to fall upon the risqué, the unholy, the unbelievable, the absurd-- will find those elements which pique and prod sundry infernal curiosities and fascinations, and allow them release into worlds of much freer reading pleasure.
Book one, This Event Juncture, is distributed via lulu.com, and features various genres including erotica and the occult, poetry and prose and others, with teasing excerpts from other tales giving you a peak into the pages of Book 2.
So when darkness falls and your day is done, dim the lights and fetch this paperback of sordid tales: the one with irresistible reads, the one you smuggle with you everywhere--to steal glimpses at every opportunity, to feed that insatiable imp that looms in the dusty recesses of your psyche. It's your own personal tome--unmistakably yours--with dog-eared corners, and tattered cover hiding the smudged pages. Then, fill the air with the ambience of Saint-Saëns' Danse Macabre or something equally as eerie--whatever sets the mood--and turn the volume low. Sink into your favourite plush chair, or if you'd rather, retreat into a closet and commence delighting your morbid whimsies. Lose yourself within the fantastic stories printed on those dingy pages, as the turn of each leaf further envelops you in its warm, maternal embrace.
This Event Juncture features sixteen stories and poems of Erotica, Macabre and other genres by R.S.DeVille and Laura Duncan.
Book #1. First Printing. 103 pages Perfect binding anthology of short stories and poems for mature readers.
Click button below to visit PULPeYe Publications' Lulu store front.